Celebrate Dad with a Father's Day Beer Tasting
We received such great feedback on our Wine Tasting for Mom event that I thought, why not plan something similar for Dad? This time we're going with a beer tasting event in dad's honor!
Thanks to an increasing appreciation for quality beer production, there are new breweries popping up all over the country. There's a good chance that there's one right in your neighborhood or close by. If possible, hosting your Father's Day event right at the brewery can add a unique feel and make it more fun for everyone. Leaving the beer to the experts gives you more time to focus on the decorations and the fun details that make Dad feel loved and honored for all he does!
I reached out to Gretchen Schmidhausier, a friend of my sister, who recently fulfilled a lifelong dream and opened a microbrewery in her hometown of Neptune City, New Jersey, on the Jersey Shore. The Little Dog Brewing Company was named after Gretchen's dog Quincy, a basenji, who is also the face of the brand!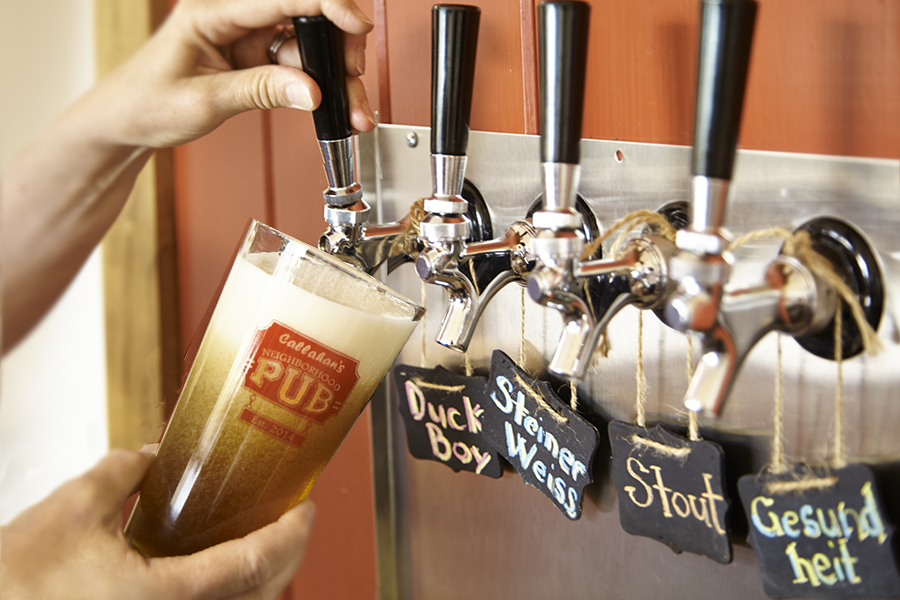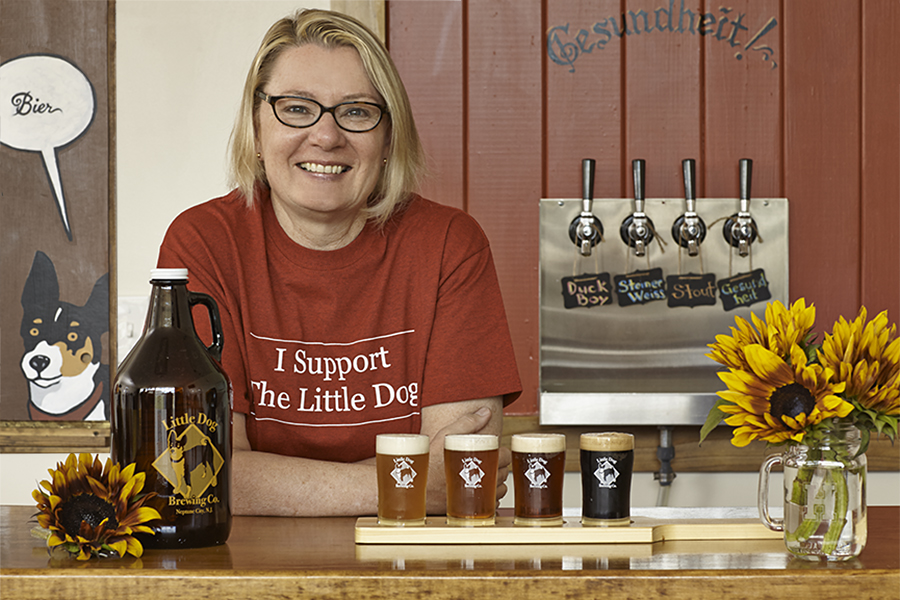 Gretchen has four different brews available at The Little Dog on a regular basis. Knowing in advance which brews will be available/served at your tasting is helpful in planning your menu. Gretchen was very accommodating and sent me the following info well in advance of our visit.
Steinerweiss – A German-style Hefeweizen, named for the brewery's street address. Light-bodied but flavorful, with subtle banana and clove-like flavors.
Pair with lighter foods:
* Goat cheese
* Pita chips
Gesundheit (Literally, "To Your Health!") – A German-style Altbier. Amber in color, medium-bodied, with a slight malt sweetness.
Versatile
Pair with:
* Gouda
* Spicy nuts
DuckBoy Pale Ale – A classic American Pale Ale; crisp, with citrus notes.
Versatile
Pair with:
* Sharp cheddar
* Peanuts
Seafarer's Stout (Dry Irish Stout)- Black, roasty with coffee notes. Gretchen first brewed this beer on what would have been her father's 91st birthday. He was a Merchant Marine and Kings Point grad, hence the name. He wasn't much of a beer drinker, but he loved stouts, particularly her own Seafarer's Stout. She'll be featuring this beer for Father's Day.
Pair with heartier foods:
* Bleu Cheese
* Chocolate
As you can see, cheese goes with everything! Harry and David has some fantastic gourmet foods available featuring various artisanal cheeses and other savory snacks in their Father's Day gift ideas collection. Choose one to serve at your party, or send one to someone special that you can't be with to let them know how much you care.
Beer Bread Bites Recipe
If you're looking for some delicious beer-inspired recipes, here is a mouth-watering example of the ones you will find at our friend Jackie Dodd's website, The Beeroness.
Beer-Battered Stout Cheddar Grilled Cheese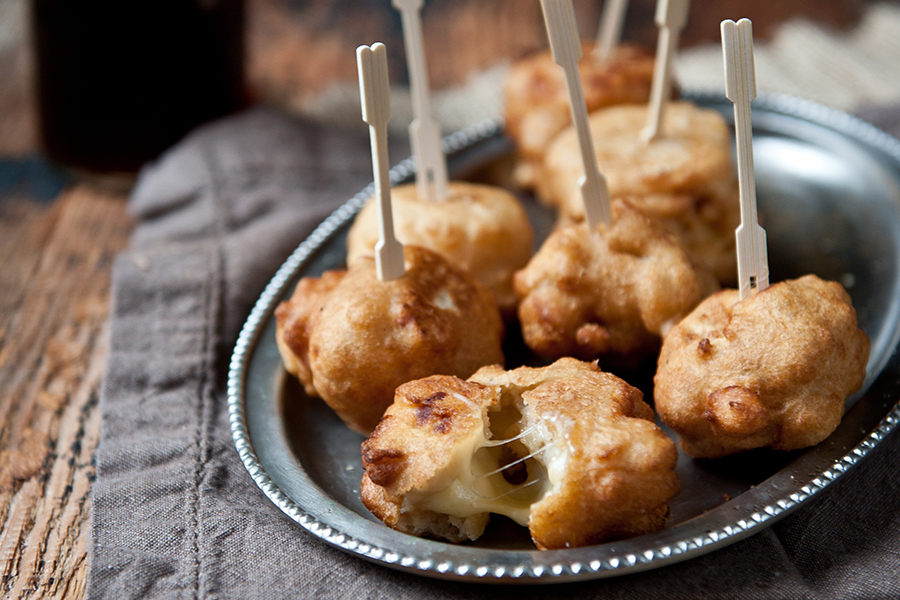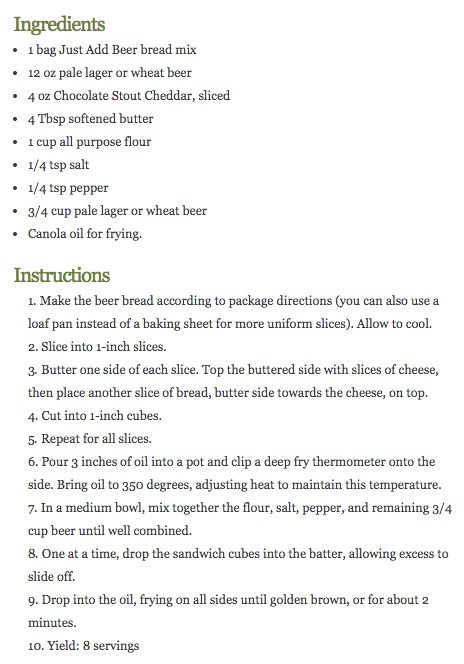 Flower Decorations for Dads
For me, it's not a celebration without flowers! That includes Father's Day! It's a fact that flowers make people feel good (studies have been done that prove this). Don't men deserve to feel good, too? Here are a few ways to bring the beauty of flowers to your Father's Day Beer Tasting celebrations!
Upcycled Beer Bottle Vases with Sunflowers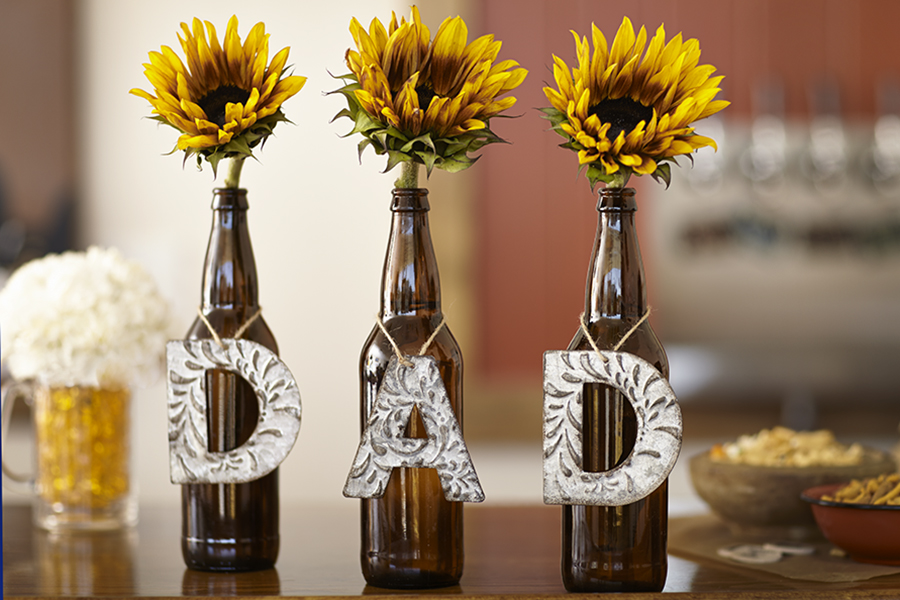 How perfect are these sunflowers from 1-800-Flowers.com? The bright and bold beauties are one of my favorite summer flowers!
The individual tin letters are inexpensive and available at craft stores such as Michael's. Use recycled amber beer bottles for the vases. Make sure they are clean of any residue by washing them out, then fill with water. Loop a letter around the neck of each bottle. Put a single sunflower in each one giving the bottom of the stem a fresh cut on an angle first.

A single sunflower and chalkboard hangtag are the perfect decorative touches, making this bottle of beer a great gift and party decoration!
Beer Mug o' Blooms: Fill a Beer Mug with Flowers
This beer mug floral arrangement is as easy to make, as fun to look at!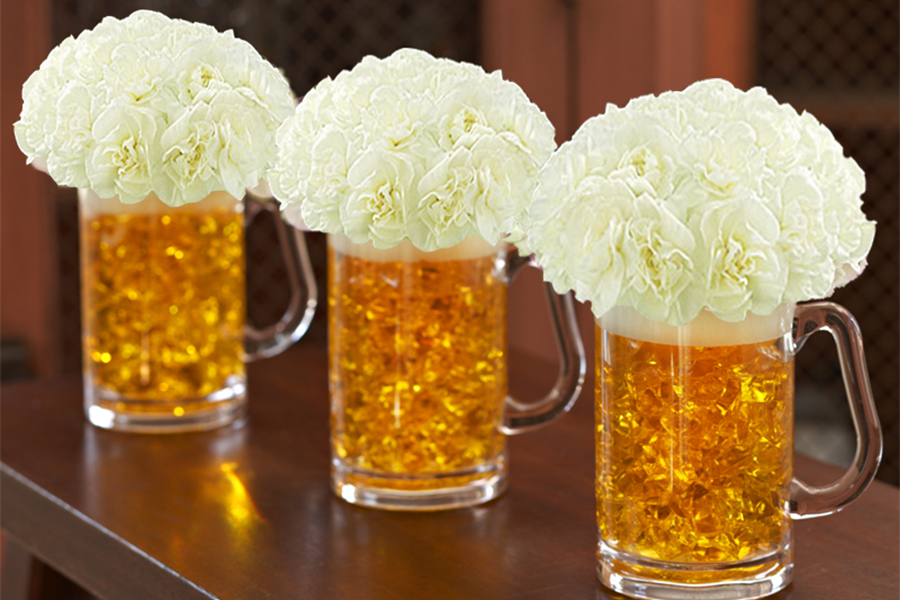 What You Need: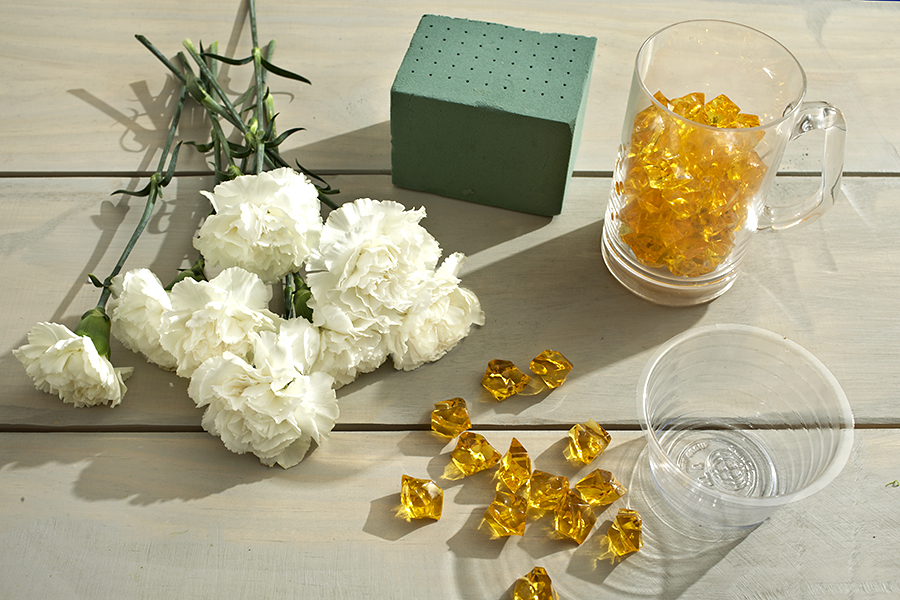 • Beer mug
• Acrylic amber/gold ice rock gems – 1 pound bag
• Floral foam
• Small plastic liner
• 12 white carnations (for the froth)
1. Fill the mug with the ice rock gems to about an 1½" from the top of the glass.
2. Add water to top of gems.
3. Add a small piece of wet floral foam cut to the width of the glass and about 1½" H. I suggest having something between the gems and the foam, but you could also just place the foam into the top of the glass.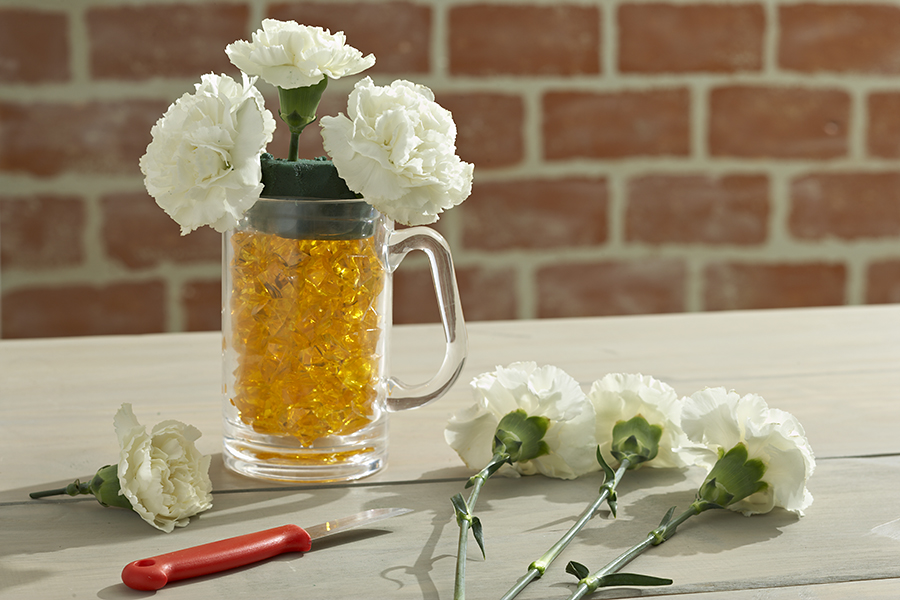 4. Cut the carnation stems short, — about 3-4" — and insert into the foam creating a mound of "foam" spilling from the top of your just poured craft beer!
Here's one more simple yet spectacular floral display that you can use on a buffet table, as a centerpiece, or anywhere that can use of little pop! There are so many great beer bottles out there. Look for names and/or labels that speak to the occasion, like the Big Daddy IPA, or perhaps a label to describe your dad… like Rebel!

Father's Day Fun & Games:
How Well Do You Know Dad's Taste in Beer?
Here's a game that everyone at the party can play together called "How well do you know your dad's taste in beer?" It's a blind taste test. One sheet is for each Dad to use to rate each of the special craft beers. The other sheet is to be filled out by the rest of the family, working together to decide how they think their dad will rate each beer.
Click here for a printable version of the beer tasting sheets.
After the blind taste test, someone gathers the answer sheets and determines, based on the number of matching answers, which family knows Dad's taste in beers the best!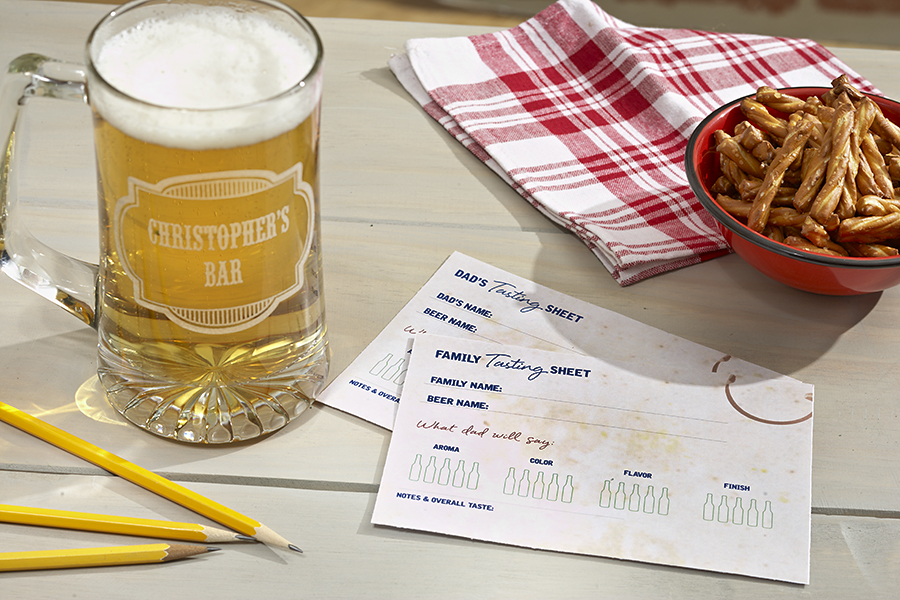 It's All in the Details: Fun DIY Father's Day Gift Ideas
DIY Father's Day Beer Cap Magnets with Personal Photos
Adding personal touches makes a celebration seem that much more thoughtful. I love to incorporate photos whenever possible. A cute way to display photos for your dad's beer tasting is to use galvanized sheets or bulletin boards and magnets made from beer bottle caps.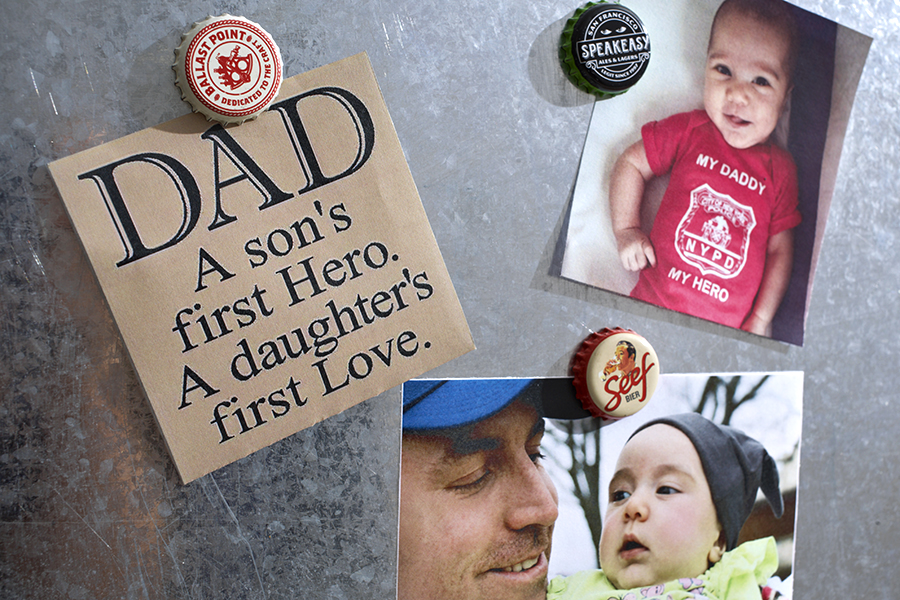 They couldn't be easier to make. You only need three things besides the bottle caps, and everything is available at your local craft store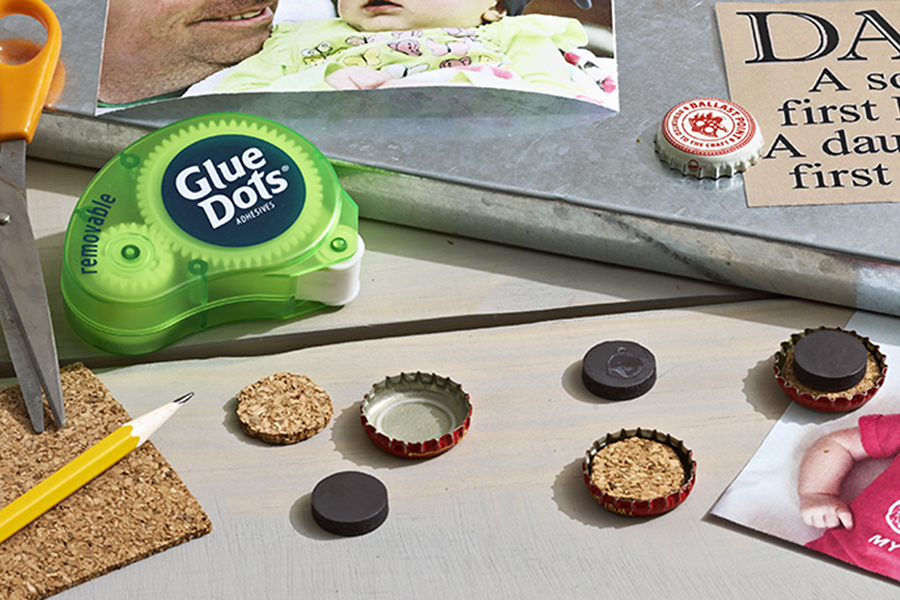 What You Need:
Bottle caps
¾" round magnets
¾" cork circles
Glue or glue dots
How To:
Put a glue dot on the cork circle and attach to the bottle cap.
Put a glue dot on the magnet and attach to the cork circle you just attached to the bottle cap.
That's it!
Planting a Memory to Live Well Beyond Father's Day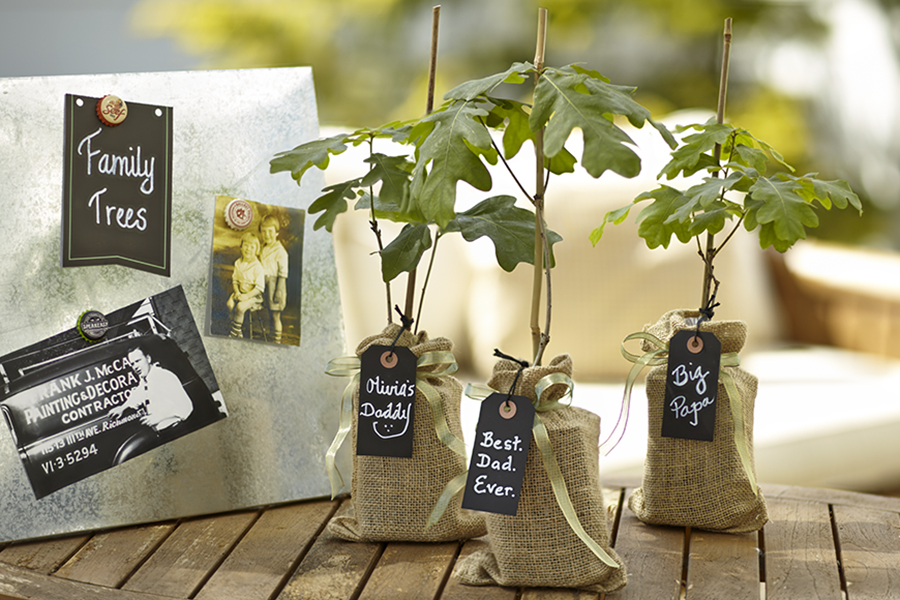 A Celebration Tree, available at 1-800 Flowers.com, with a personalized chalkboard hangtag would make a really sweet parting gift for each dad being honored. Each one comes with planting instructions in its own burlap bag tied with a sage green ribbon. We chose the oak tree, which is a symbol of strength. It will also be a symbol of your family love for generations to come. You can also get baby trees for planting at your local nursery.
All of the terrific personalized barware items featured in this post and more can be found in the Barware and Entertaining Collection at 1800flowers.com.