Not sure what to plan for Dad this Father's Day? How about organizing a beer tasting event in his honor! Thanks to an increasing appreciation for quality beer production, new breweries are popping up all over the place. In fact, there's a good chance you have one right in your neighborhood or close by. Check with your local establishment and see if you can do a DIY Father's Day gift with an event right at the brewery. Leaving the beer to the experts gives you more time to focus on the decorations and fun details that make Dad feel loved and honored for all he does!
Some places near where I live serve only beer and not food. If that's the case by you, and you have to bring in your own munchies, I'll let you in on a little secret: Cheese goes with everything! Harry and David has some fantastic gourmet foods available featuring various artisanal cheeses and other savory snacks in its Father's Day gift collection. Choose one to bring along to the tasting, or send one to someone special that you can't be with to let them know how much you care.
DIY Father's Day gifts: flowers
For me, it's not a celebration without flowers, and that holds true for Father's Day, too. It's a fact that flowers make people feel good, and dads are no exception.
Here are a few DIY Father's Day gifts to bring the beauty of flowers to your beer tasting celebration.
Upcycled beer bottle vases with sunflowers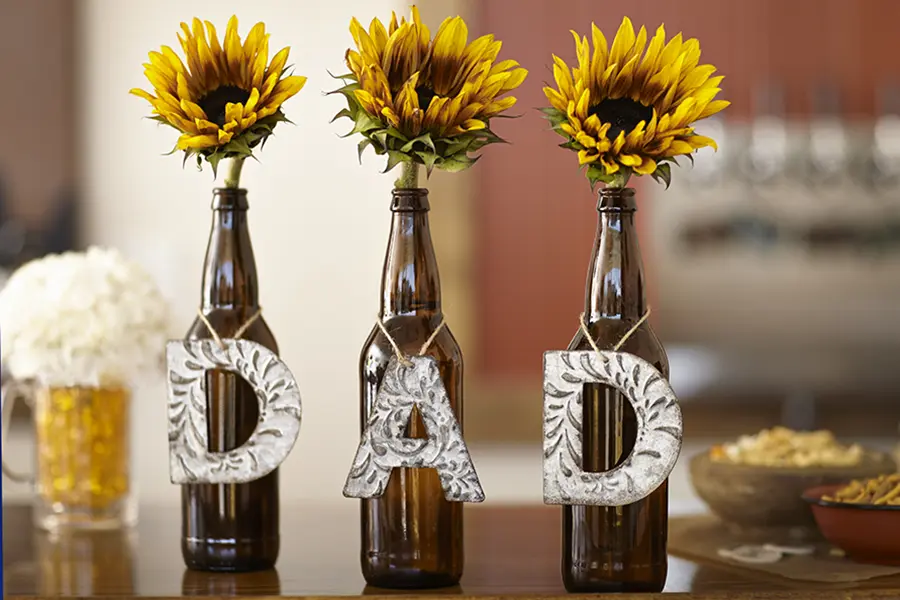 How perfect are these sunflowers?! The bright and bold beauties are one of my favorite summer flowers. The individual tin letters are inexpensive and available at craft stores everywhere. Use recycled amber beer bottles for the vases. Wash them out to make sure they are clean of any residue, and then fill them with water. Loop a letter around the neck of each bottle and put a single sunflower in each one, making sure to first cut the bottom of the stem at an angle.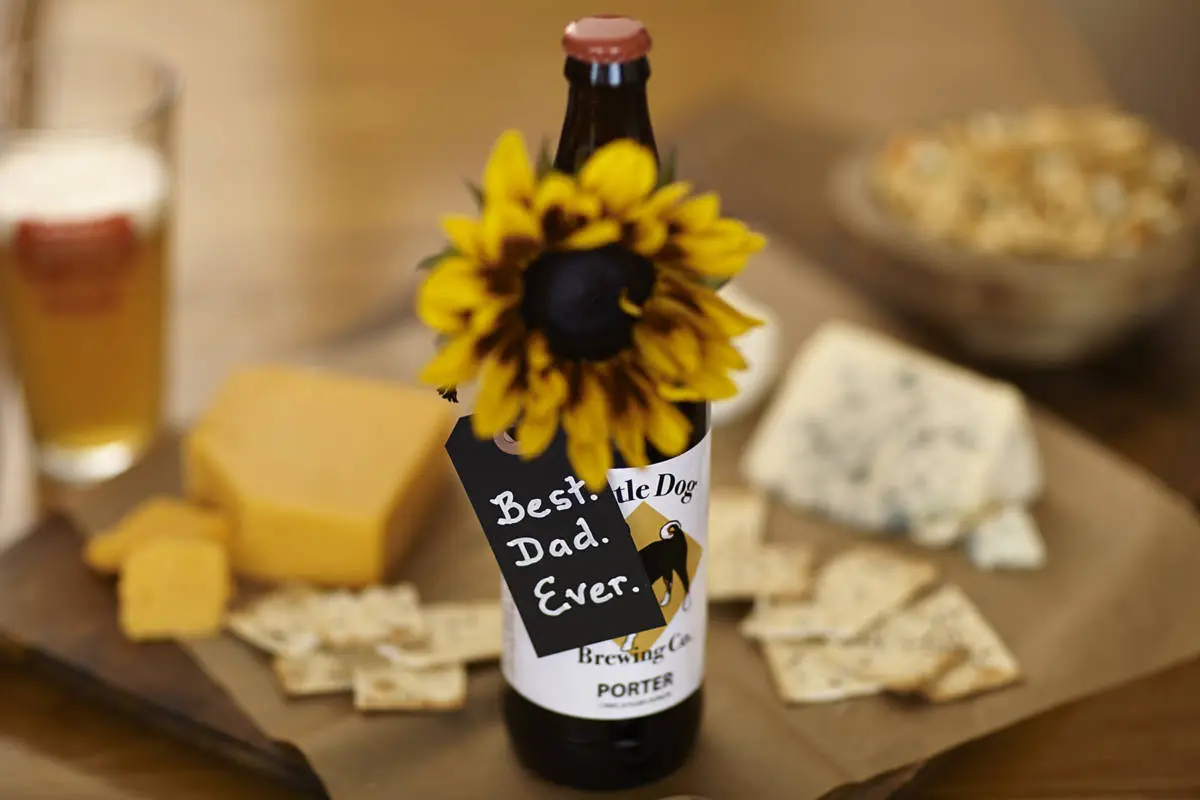 A single sunflower and chalkboard hangtag are the perfect decorative touches. They make this bottle of beer a great DIY Father's Day gift and party decoration!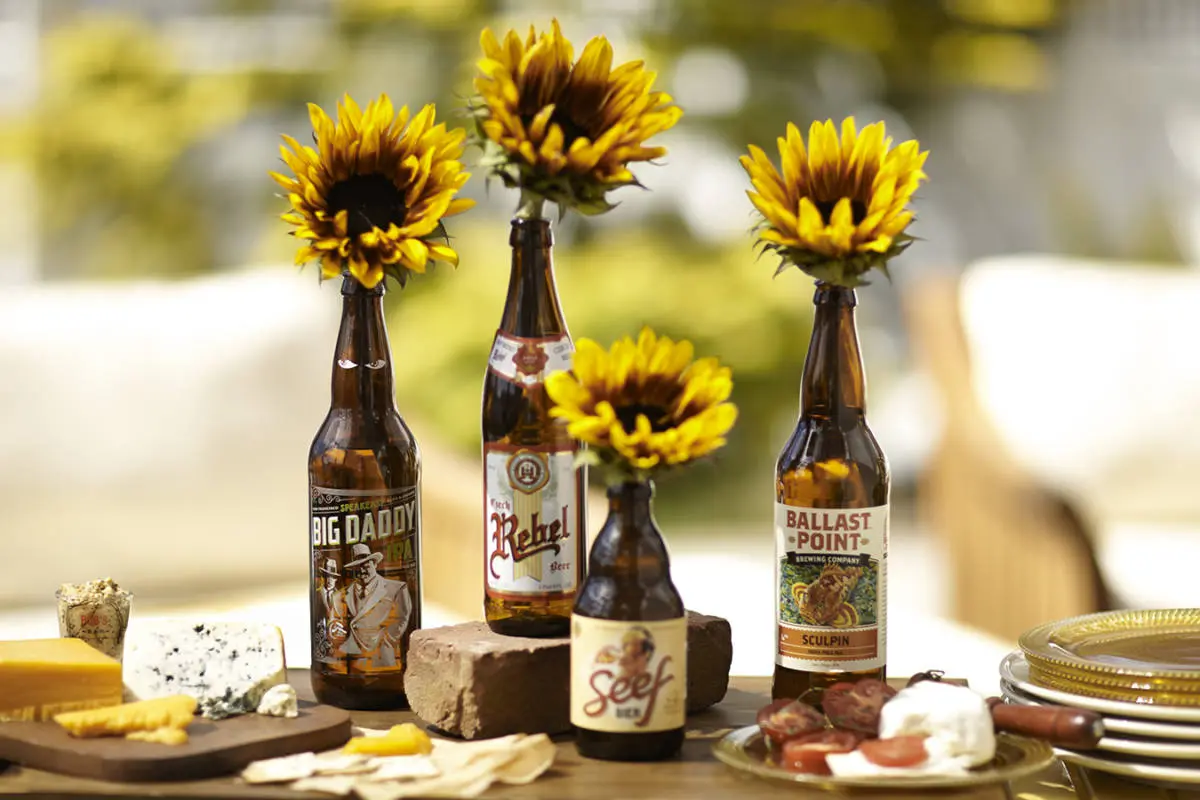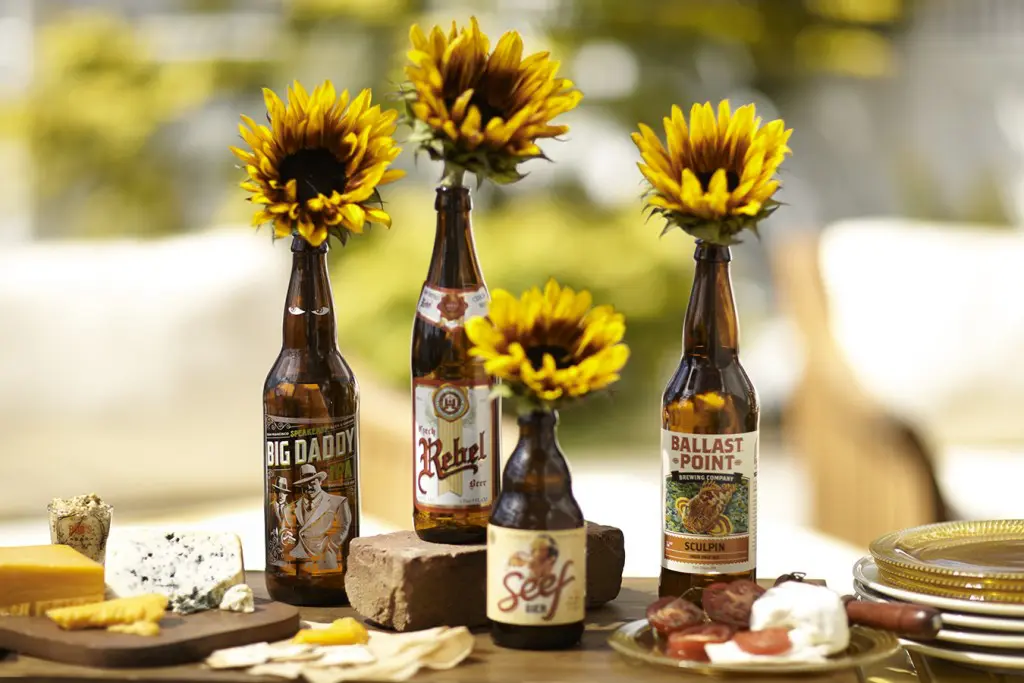 An even simpler way to display flowers for Dad is to look for brand names and/or labels that speak to the occasion, such as Big Daddy IPA, or your dad's personality, like, perhaps, Rebel. There are so many great beer bottles out there to choose from. Use these on a buffet table, as a centerpiece, or anywhere that can use of little pop!
Beer mug o' blooms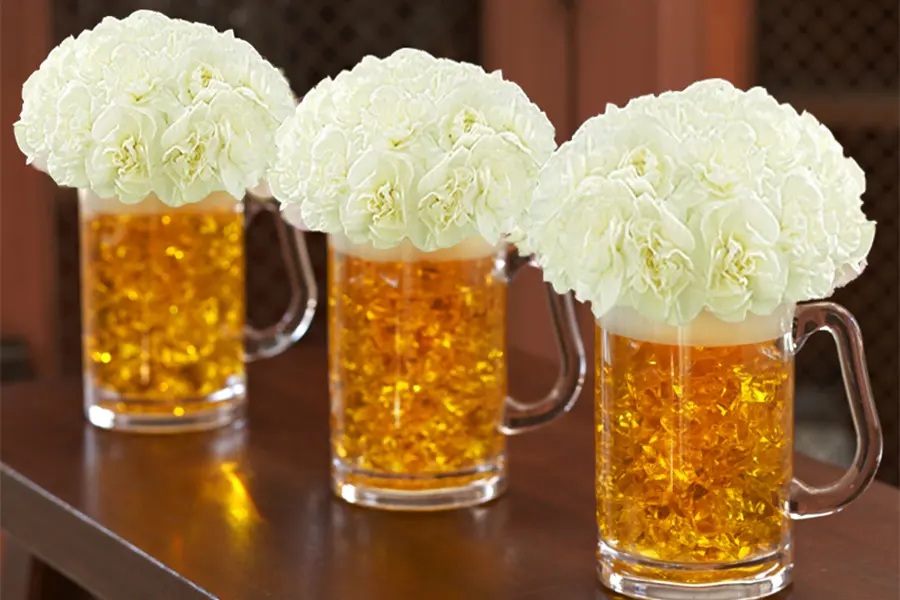 This beer mug floral arrangement is as easy to put together as it is fun to admire. It incorporates carnations, and is a great decorative idea to make for Father's Day, St. Patrick's Day, or any other occasion when beer is on the menu.
Check out the step-by-step instructions for this DIY Father's Day craft that looks so cold and refreshing you almost want to drink it. (But don't! It's made of acrylic ice rock crystals.)
DIY Father's Day fun and games: How well do you know dad's taste in beer?
Here's a game that everyone at the party can play together. It's a blind taste test and a guessing game, and all you need is these printable beer tasting sheets (and some beer!). Dad uses one tasting sheet to rate each of the special craft beers you get for him, and the rest of the family uses the other to decide how they think their dad will rate each beer.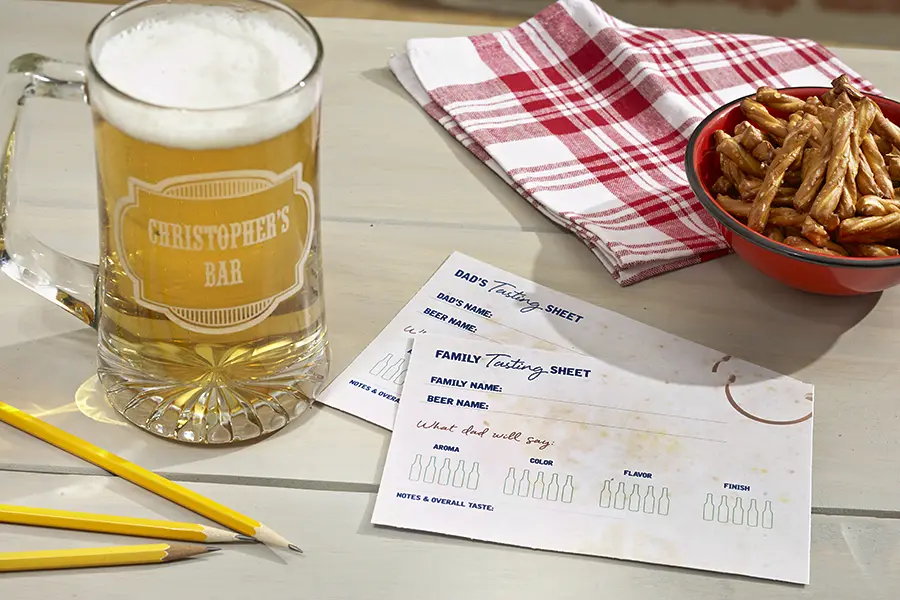 After the blind taste test, someone gathers the answer sheets and determines, based on the number of matching answers, which family member knows Dad's taste in beers the best!
DIY Father's Day gift idea: Beer cap magnets with personal photos
Adding personal touches makes a celebration seem that much more intimate. I love incorporating photos into crafts whenever possible. A cute way to display photos for your dad's beer tasting is to use galvanized sheets or bulletin boards and magnets made from beer bottle caps.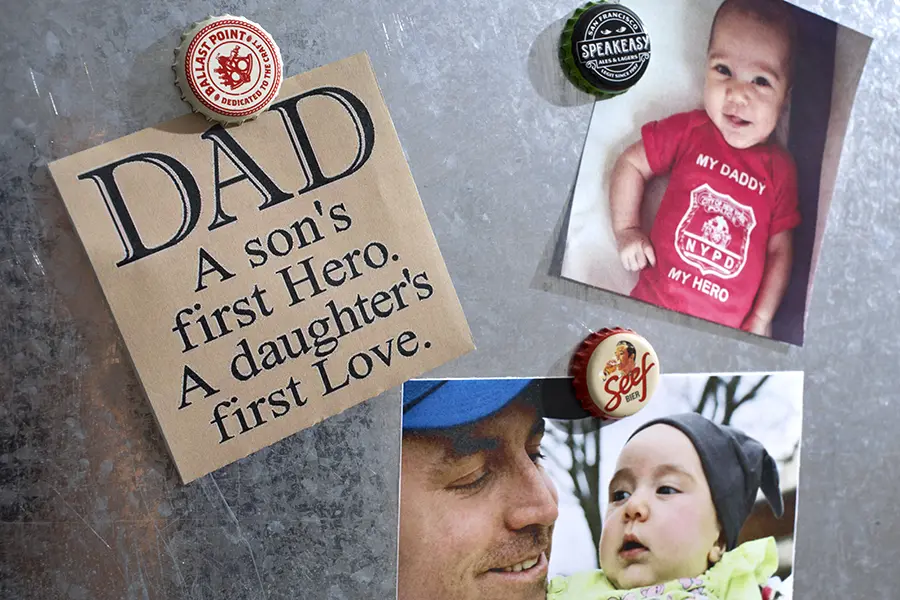 These couldn't be easier to make. You only need three things besides the bottle caps, and everything is available at your local crafts store.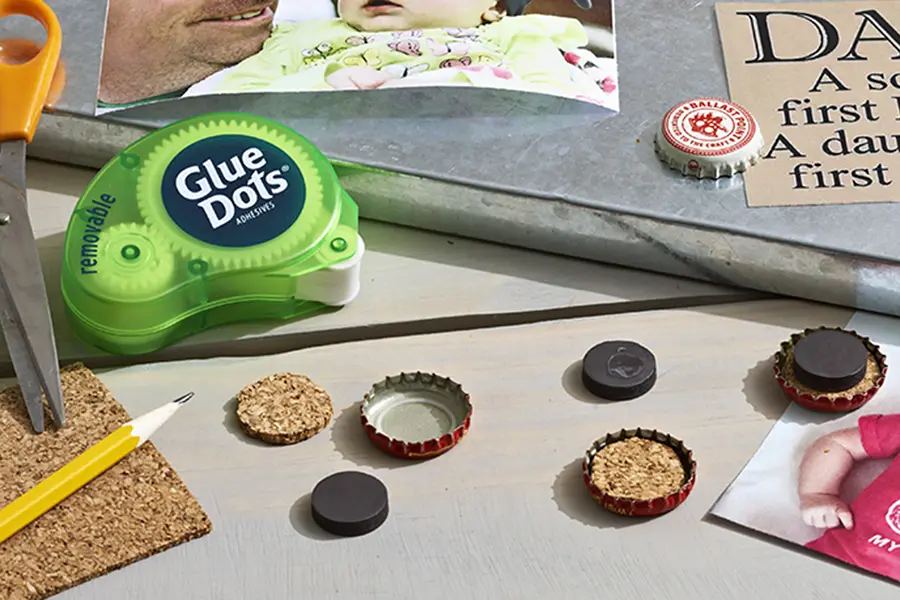 What you need
Bottle caps
¾" round magnets
¾" cork circles
Glue or glue dots
What to do
Put a glue dot on the cork circle and attach it to the bottle cap.
Put a glue dot on the magnet and attach it to the cork circle you just attached to the bottle cap.
That's it!
Personalized barware
If you don't fancy yourself the crafty type but still want to get your beer-loving dad something that shows you care, check out the personalized barware items available on 1-800-Flowers.com.
Cheers to all the dads out there!