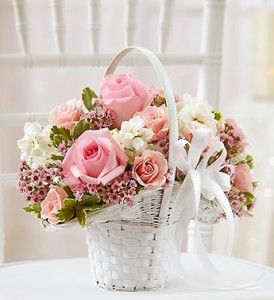 It's a little known fact that the flower girl is one of the most photographed members of the bridal party. Not only is she adorable with her flower basket and beautiful color-coordinated dress, but she also has one of the most important jobs of the wedding day. She adorns the aisle with her petals of love to prepare the guests for the much-anticipated entrance of the breathtaking bride.
The cutest flower girl would not be complete without a darling basket to accompany her ensemble. Here are some cute, trendy and creative flower basket ideas:
Themed Flower Baskets
Think outside of the box and devise creative alternatives to the traditional flower basket. Are you having a destination wedding? Are autumn leaves falling? If you are getting married on the beach, consider a wicker basket decorated with sea shells and ribbon the color of the striking blue water. For spring weddings, try a multi-colored arrangement. Flower girls can carry spring flower girl baskets with blue, pink and yellow flowers.
Rustic Outdoors
If you are having an outdoor rustic wedding, your flower girl would look simply adorable holding a mini wooden trough filled with bright, yellow sunflowers. If yellow clashes with your color theme, use white daisies or pink carnations.
Going Green
Earth-conscious brides will love the idea of a nature-inspired flower basket to promote her ideals and make her day complete. To break away from tradition, try a bird's nest of twigs or cover a basket with green moss and fill it with colorful flowers such as a rainbow bouquet of multi-colored roses.
Teddy Bear
Take cuteness to the next level by pairing your adorable flower girl with the one stuffed animal that can make everyone's heart melt. Attach a basket to the inside of a teddy bear and wrap the bear's arms around it. You can also attach flowers directly to the teddy bear for a completely different look. This is a particularly good idea for younger flower girls, as it may make them feel more comfortable!
Glam it Up!
If you love glitz and glamour, a little "bling" will turn a basic basket into a princess-like creation your flower girl will adore. Affix rhinestones, colored jewels and other faux stones to the outside of an ordinary basket while matching the overall color theme of your wedding.
Wedding Apron
For a complete break from tradition, throw away the flower basket and replace it with a cute apron. Your flower girl will look simply scrumptious in a smock or apron fit with pockets full of flower petals. Decorate the apron with a monogram, a damask pattern or any emblem that coincides with your wedding theme. Once your flower girl is done throwing her petals, take off her apron to reveal her adorable dress underneath.
It's hard to imagine anything cuter than a little girl in a beautiful dress. Any of these choices will be perfect for an already adorable flower girl ready to lead her bride down the aisle of her new life.