The Difference Between Funeral Flowers and Sympathy Flowers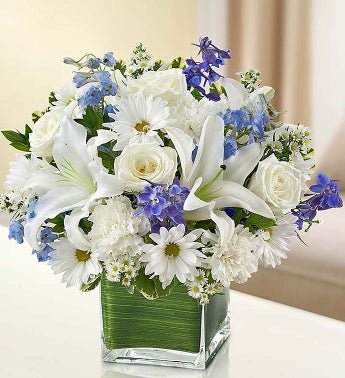 The Difference Between Funeral Flowers and Sympathy Flowers
A touching tribute to a passed loved one who has passed. A classic gesture of comfort for a friend or family in mourning. Flowers help us express our sympathies perfectly. When it comes to where you send your flowers, however, there are some differences:
Etiquette for Funeral Flowers
Sent to a funeral home or religious center to honor a loved one who has passed
Commonly given by groups, such as colleagues, friends or family
Designed to be displayed at a memorial service and are typically large, featuring a one-sided vertical design
Include standing sprays, floor baskets, standing wreaths, hearts and Crosses and casket flowers
Etiquette for Sympathy Flowers
Sent to the home or office as a gesture of sympathy to friends or family
Commonly given by individuals or small groups of friends of the family
Designed to be displayed in their home or office and are typically modest-sized to rest on a counter, table or windowsill
Include vase and cube arrangements, basket arrangements and plants
In addition to more traditional flower gifts, specialized arrangements that pay
personal tribute
to loved ones are becoming popular. Many florists are able to design one-of-a-kind creations that celebrate a variety of different professions, interests or hobbies, which can be delivered to the service, or to the home or office. Whether you choose to send an arrangement to the funeral home or to the family's home, flowers are a beautiful way to provide immediate comfort and support, and the loving sentiment they symbolize will be long remembered and appreciated.
Product Recommendations
Deepest Sympathies Standing Spray – Lavender
Heartfelt Sympathies Standing Basket – White
Healing Tears – Blue and White
Spathiphyllum Floor Plant for Sympathy