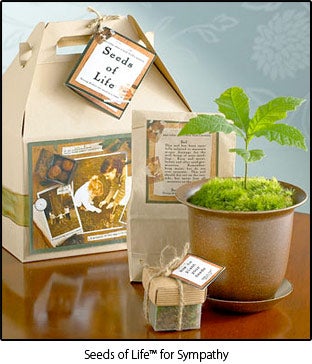 How to Help with Grieving
By Lynn Isenberg
When you have a friend or relative who has experienced a loss, it's important to step back, analyze, and ask yourself, "What are my intentions? How can I be of help that is realistic?"
Imagine yourself in their shoes and ask yourself what you want from your friends.
Sometimes it's okay to simply sign the guest register at the funeral service, send in a donation, and stop there.
If you choose to go deeper, be prepared to follow through on your offers of assistance. Be aware that practicing compassion does not mean taking the pain away from the griever, but offering Heart Centered Listening and volunteering assistance so griever has the time they need to grieve and feel supported while they do so. A helpful example would be to offer the griever to take the kids to the zoo for the day so that the person has some time alone to heal their memories and process feelings of loss and transition.
Remember that having pre-conceived time limits are dangerous! If you believe someone needs to move on, that enough is enough, it's not your place to make that judgment. That person has the right to be where they are in the grieving process. And you have the right to be where you are. However, it's not being of service to impose your timeline on them.
Remember that this person is in a state of disrepair. It is also not your job to rescue the griever, but if you choose to go to another level with your support, try to be understanding of the difficulties that these new "normals" have created.
What Not to Say
"I know how you feel."
It's more loving to simply hold space for them and to offer Heart Centered Listening by responding with, "I hear you. I hear how painful this is for you."
"If you need anything, call me."
This represents Inaction vs. Action and puts the burden of doing something on the griever. It is impractical to think that someone will call you when more often than not they will feel like an imposition to you. If your intention is to "do" something for somebody, then start your sentence with "Can I". Saying "Can I" allows you to enter uncharted waters towards a sea of appreciation.
What To Say
"Can I pick up the kids?"
"Can I bring you dinner?"
"Can I take the dog to the vet for you?"
"Can I pick up some groceries for you?"
"Can I run any errands for you?"
"I can't imagine being in your situation. Every time I try, I feel totally lost. I can only imagine, but there is no way I can really know…is there anything I can do for you?"
If you stop to think about the effect of loss on the griever's life you begin to see how you can be of help by simply dealing with the practicality of their new world.