Forget growing our own flowers. This season, we're glowing our flowers — literally! Everyone knows that the real fun always starts when the lights go down. And with the days getting shorter and shorter, it seems only fitting that we embrace the night and all things spooky leading up to Halloween. Enter: Glow in the Dark Roses! By day, these roses make a crisp addition to even the most formal of living rooms. But at night? At night, they transform your space into a glowing green enchanted forest.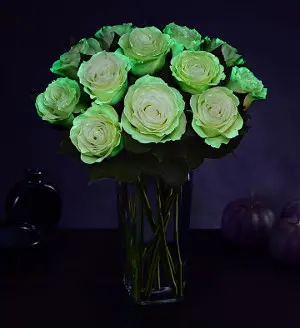 All About Mondial Roses
We instantly knew that the bright, white nature of Mondial Roses would make them the perfect choice for our glowing treatment. These roses typically stand at an impressive two feet tall and adorn a remarkable three-inch bloom. Known for their trendy nature, these delicate petals lay beautifully atop a leafy, green stem.
Get Them Glowing
There are no batteries, chargers, or wires required for our roses! These luminous beauties come to life thanks to the power of the sun. To ensure your roses glow all night long, all you have to do is leave them in a bright room during the day. When the sun goes down, your roses will instantly start to glow. And remember, the longer you leave them to "charge" in the sun, the longer they'll glow!
Making the Most of Your Glowing Roses
These flowers add a fun twist to traditional roses all year long, but with Halloween just a few weeks away, they have the power to completely transform any party or costume.
As Part of Your Costume
Thinking of going as a corpse bride? How about a zombie or a 70s hippie? These flowers make a fun addition to any costume and are sure to make you stand out from the crowd.
Creating a Haunted House Atmosphere
Throwing a party in honor of All Hallow's Eve? Create a spooky glow in your DIY haunted house by incorporating a vase of glowing flowers into different rooms.
Other Uses
While these limited edition Mondial Roses make an excellent addition to any Halloween festivity, this fun twist on traditional flowers is also perfect for winter dances, recitals, birthdays, and anniversaries.
Glow in the Dark Rose Care
Despite their truly illuminating presence, caring for glowing roses is strikingly similar to traditional rose care. Typically, Mondial Roses will last for nearly two weeks when cared for properly. The best way to ensure they live a long, happy life is to:
Immediately place them in a clean, bacteria-free glass vase filled with warm water.
Cut the stem of each flower at a 45-degree angle (make sure to use a sterile scissor or knife).
Never leave them in direct sunlight. Though it's important to keep these roses in a sunny room, you want to be careful not to burn or dry them out. This can cause their petals to wilt and fall off.