Our series "Reimagining Grief" encourages you to rethink your understanding of grief. Through personal stories and uplifting videos, we'll help guide you to a peaceful, pleasant mindset. In this article, we explore the history and impact of the Floral Heart Project.
Kristina Libby wanted to do something. It was April 2020 and New York City was in the throes of the COVID-19 pandemic. People were sick and scared, and thousands were dying. Because of social-distance measures, they were also alone and isolated.
Unlike other national tragedies like 9/11, there were very few displays of mourning — no wall of pictures, large gatherings at churches or candlelight vigils. "In traditional incidents of mass trauma, we see photos and people leaving flowers at the scene, flags are at half mast," says Kristina, an artist. "These things help us understand and process what happened. I didn't see anything like that, and it made me even sadder."
Loved ones couldn't hold traditional funerals to say goodbye, which made the losses all the more difficult. "The fact that the community wasn't doing anything shook me," Kristina says. "I've studied mass conflict and trauma, and I understood that it's important to grieve. If you delay that, it can lead to collective PTSD."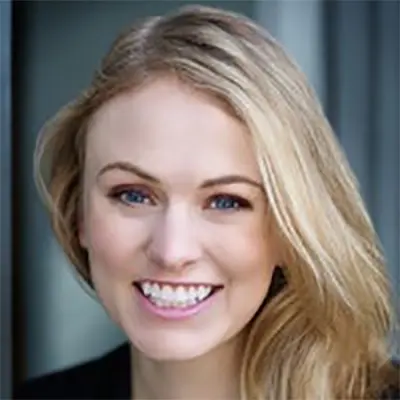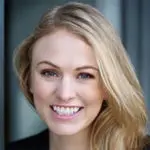 In traditional incidents of mass trauma, we see photos and people leaving flowers at the scene, flags are at half mast. These things help us understand and process what happened. I didn't see anything like that, and it made me even sadder.
Kristina Libby
Artist
Kristina decided to do one small thing. She went to her local grocery store (as an essential business, it was one of the few up and running) and bought out the store's entire floral section and decided to make an art installation using a traditional floral garland technique that she learned on YouTube. She fashioned the flowers into a massive heart, put on her hat and mask, and headed to New York City's Brooklyn Bridge Park, where she set the wreath on the ground. "It was just so simple, but I wanted to share this love that I felt," Kristina says.
As she was leaving, she saw a man kneel down in front of it. "I was like, 'this matters to someone,'" she says. "That's what I wanted."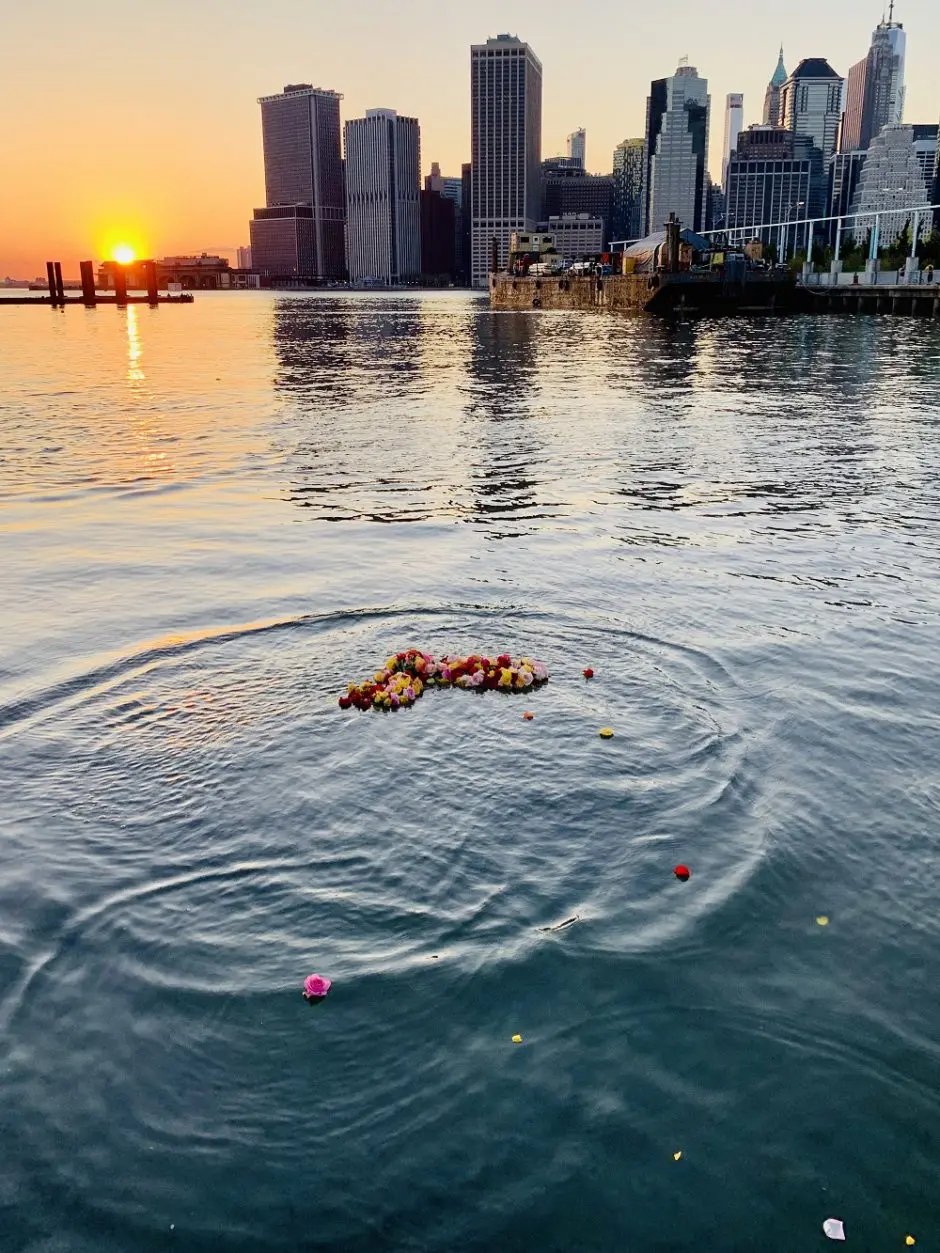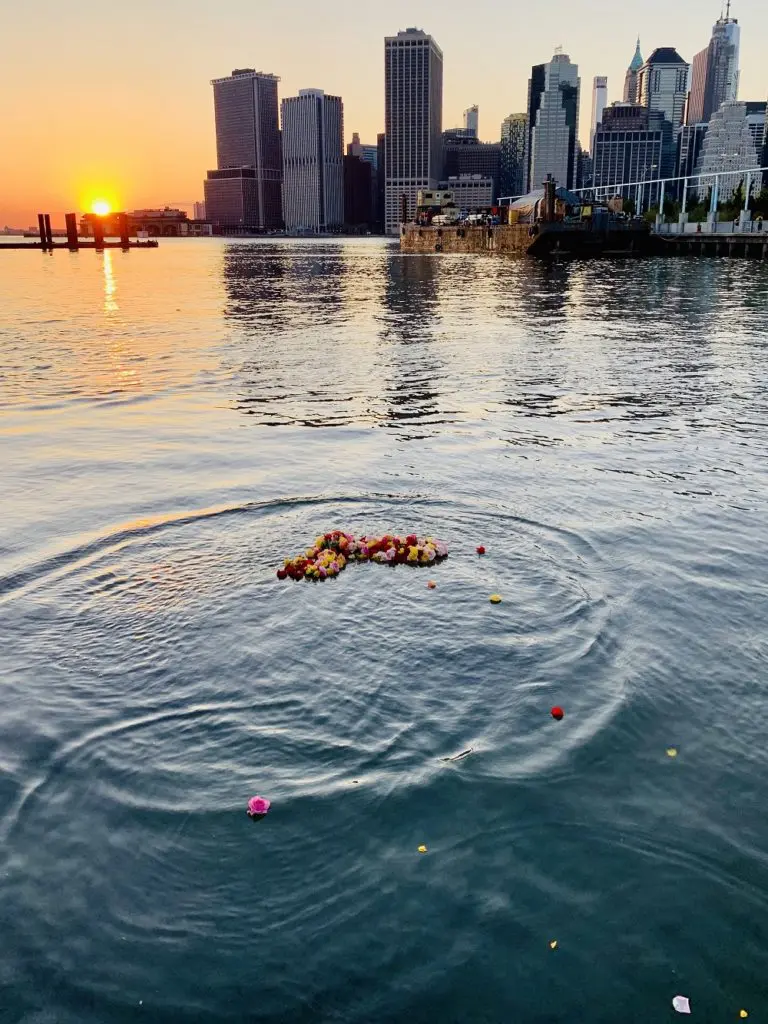 Bringing communities together with art
When she shared the moment with friends and family, they had similar reactions. That's how the movement that eventually became the Floral Heart Project began. Every four or five days, Kristina would buy all the roses from a grocery store and make a wreath. Friends and acquaintances would let her know they saw one and ask if it was hers, and then she started receiving emails from strangers who'd seen the flowers.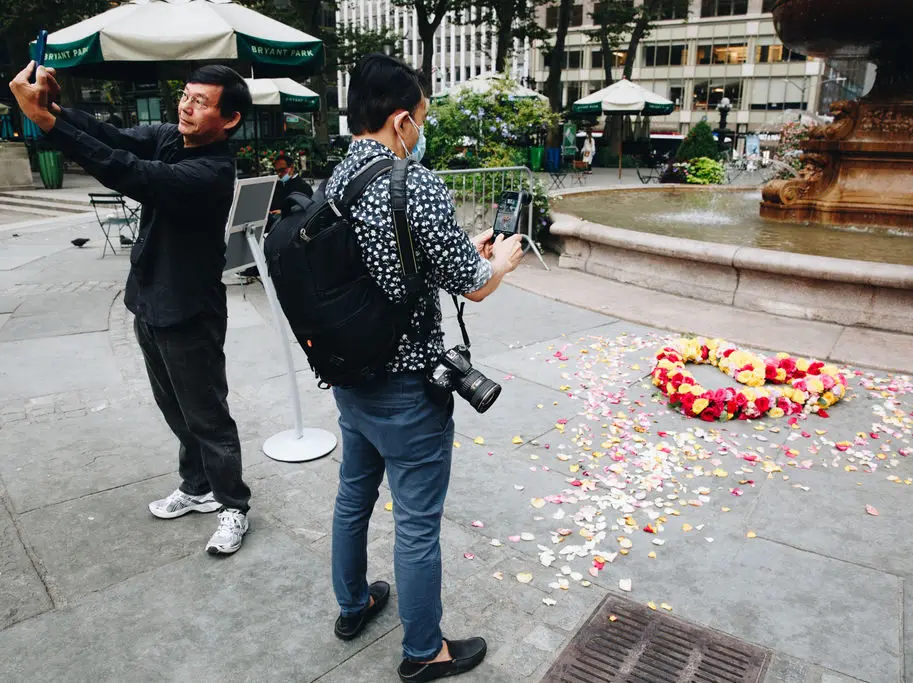 "So many people would say, 'I didn't know I was grieving until I saw this.'" With so much of the country divided, the virus itself became a political issue, but Libby wanted to make sure the hearts were apolitical and for the communities as a whole. "I felt called," she says. "I felt compelled that this was the thing I had to do."
But she also knew that she couldn't keep spending $500 a week on flowers. She needed a partner. In June 2020, she heard 1-800-Flowers President Amit Shah speak at a virtual event, and she figured it was worth a shot to ask about collaborating on the project.
"She reached out to Amit to let him know what she was doing and why," says Melissa Owen, director of growth marketing at 1-800-Flowers. "We really connected with her. We understand the importance of acknowledging and processing grief — and that process overnight became more complicated at the onset of COVID-19 and social distancing."
"Flowers have long stood as a traditional expression of sympathy and hearts as a traditional symbol of love and compassion," Melissa says. "Kristina was using floral heart wreaths as her personal form of expression and connection with the public to a provide a safe space for the public in turn to do the same. We saw it as a natural fit to partner with her."
1-800-Flowers provided her not only with the raw materials but also with the ability to reach a larger audience. "That's when I started to realize it's not just my thing anymore" says Kristina.
Connecting through shared grief
New York City-based communications executive Fiana Tulip saw a brief mention of the Floral Heart Project in a news story and realized just how much it encapsulated what she'd been feeling. Fiana had lost her mother, a beloved respiratory therapist in Texas, to COVID in July 2020. "Kristina reminded us that our grief matters and that we were loved and that we were heard and surrounded with compassion and love," she says.
Fiana was already involved with Marked By Covid, a nonprofit focused on uplifting the stories of those who've lost loved ones to the virus. The group was planning a national week of mourning in October, and Fiana hoped to participate locally.
"I wanted to collaborate with someone to honor the lost in the city so that it wasn't just me standing at a park entrance holding a candle," she says. "I thought what Kistina was doing was absolutely beautiful. So, I reached out on Instagram. She was so receptive to hosting something with me and helped me plan the event."
Together, with 1-800-Flowers.com, they put together a vigil in Greeley Square Park. Soon after, they put together vigils in Times Square, Queens, and Washington Heights. Several prominent social media influencers shared photos from some of the events and things took off from there. "I'll never forget it," says Fiana. "I'm so grateful to have partnered with Kristina and brought in others who have lost a loved one to share their stories."
The project becomes a national movement
Not long after joining forces with Marked By COVID and other nonprofit groups, the Floral Heart Project took part in a massive national day of mourning on March 1, 2021. In 100 communities from Maine to California, volunteers laid the heart wreaths as part of vigils, services, and other events where people could recognize those they'd lost to the virus.
Fiana was heavily involved in the planning but found a private moment to honor her mother. "I put my floral-heart-making skills to practice — Kristina taught me how to create the little bouquets that make the heart at our first vigil," she says. "By sunset, my family and I were releasing our heart into the water. It was an absolutely beautiful moment."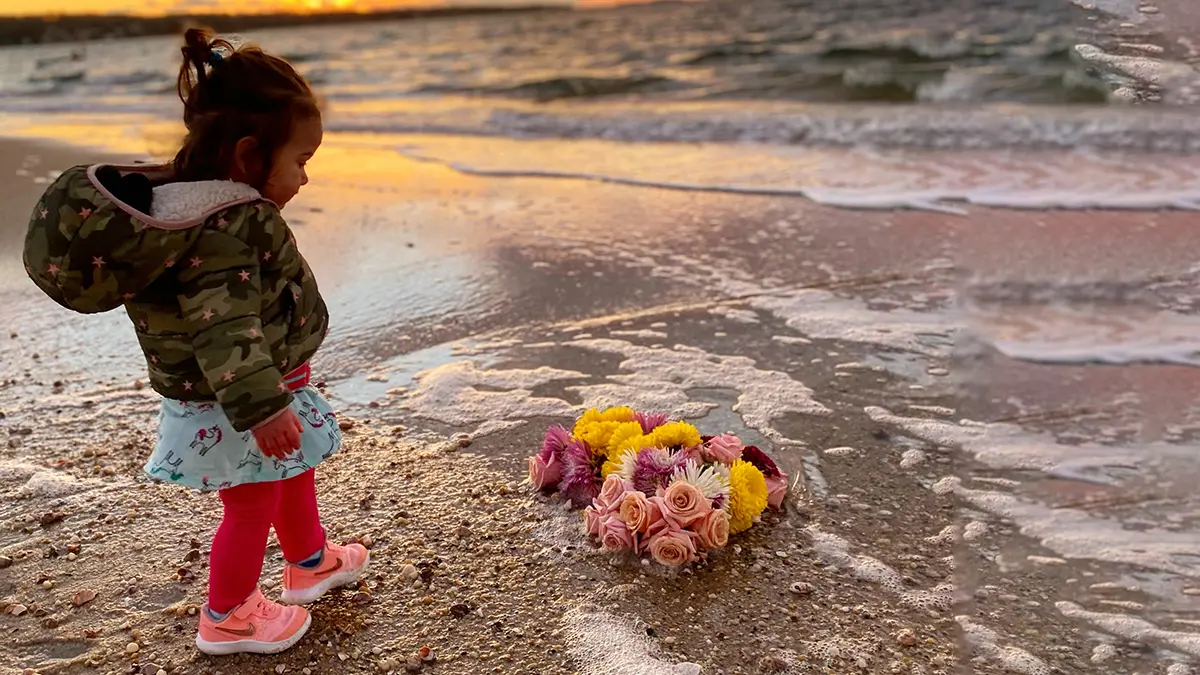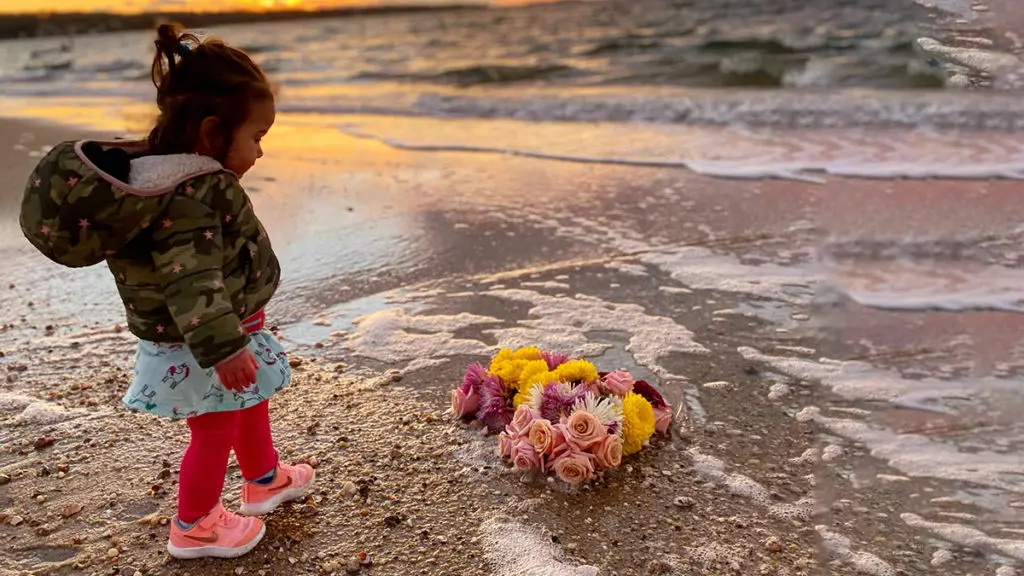 The Floral Heart Project's future
She was hardly alone; people from around the country reached out to Kristina to share how meaningful the hearts had been. "One volunteer who lost an aunt said how using her hands to make the wreath had helped her grieve," says Kristina. "Another woman, who had lost her mother when she was young, told me that making the heart gave her a closure she'd never gotten before."
It's sentiments like these that keep Kristina expanding the endeavor. "I've had a career where I've done so many things, but I've never felt so genuinely myself as when I'm doing this project," she says. "Watching my little idea grow has been so strange and wonderful. A year ago, I was angry at the universe, but now I've met so many wonderful people who've proven me wrong."
---