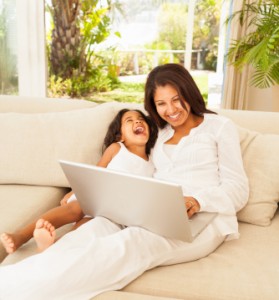 On Mother's Day we celebrate the most important women in our lives: our mothers.
Giving mom gifts for Mother's Day is great, but spending quality time with mom is priceless.
To help you plan your date, we've listed several good movies to watch with mom on Mother's Day featuring some of film's most quirky mothers.
With good movies to watch with mom, she is guaranteed to feel the love. So snuggle up on the couch, get cozy and watch these Mother's Day flicks with the most special lady of the house.
Please note: We've added the MPAA ratings so you can know if these films would be suitable for your family.

1. My Big Fat Greek Wedding (PG): A hilarious depiction of cultural heritage and identity, Greek Toula finds the courage to introduce an outsider to her quirky, yet extremely loving, family. For families with strong ties and traditions, you can watch this movie a thousand times and never tire of it.
2. Failure to Launch (PG-13): A mom and dad plot to get their thirty-five year old son to move out of their house. Kathy Bates plays a mom whose struggle to encourage maturity in her son involves a hired woman and some sneaky coercing to make him fall in love with the one girl that can make him want to be independent. This is a comedy for moms with children that will never leave them.
3. Because I Said So (PG-13): Diane Keaton plays the classic "meddling mom" role. Her attempts to set her daughter up with the perfect man create much laughter and heartache. A beautiful film about the special relationship that exists between mothers and daughters, this movie is a great representation of sacrifices that can only be understood by moms.
4. Mamma Mia (PG-13): A story about a daughter's search for her real father, Mamma Mia is a musical with a free-spirited mother, Meryl Streep, and her three ex-lovers. The three possible fathers are tricked into coming out to celebrate the daughter's engagement. The extreme circumstances of the plot are hilarious, and the complex relationships between each of the characters makes for an evening filled with amusement.
5. Throw Momma from the Train (PG-13): Owen is a man that is treated like a child by his old and, somewhat, senile mother. His genius plan to kill the ex-wife of a bitter man in exchange for the man killing his overly demanding mother is not as simple as it seems. This classic comedy about a momma's boy and his strong-handed mother is sure to have you and mom rolling with laughter.
6. The Family Stone (PG-13): An adored son introduces his uptight fiancé to his family for the first time. She is expected to mesh well with the family, but the mother does not take the soon-to-be bride's attempts at stealing her perfect son away so lightly. A film about the trials and tribulations of love and acceptance, this film is one that everyone can relate to.
7. Running with Scissors (R): Not all mothers are made to be mothers. In this dark comedy, an unstable, narcissistic mother makes her son go live with her quack therapist and his quirky family. This is the story about a boy's struggle with loving his mother and accepting her, despite all of her faults. An example of unconditional love, this film finds laughter within sadness.
8. It's Complicated (R): A family is in shock when they discover that their mother is secretly having an affair with their father, her ex. Meryl Streep, the mother, is put in an incredibly difficult position when she must decide between her old flame again, who betrayed her once before, or trying something new with the adorably sweet architect, who is renovating her home. This is a humorous story about the complexity of love and how it can drive us to do things we never thought possible.
9. Something's Gotta Give (PG-13): Mom will love this film. An old bachelor finds passion with the mother of his young, hot girlfriend. He finally realizes that what he really desires is a stable relationship with a woman his own age. Mature love can come in the most unpredictable situations with the most unpredictable people. With an amazing cast and this cleverly written script, Something's Gotta Give is the perfect film for movie night with mom.
10. Serial Mom (R): Everyone remembers this classic. Kathleen Turner plays the role of Beverly, the prim and proper housewife turned serial killer, who will stop at nothing to defend her family. Gruesomely ludicrous, Kathy Bates is "the good mommy gone bad". Mothers will do everything for their families and, in this case, even murder.