Meet Jeanne Braun, Fresh Rewards Specialist
What do you do at 1-800-Flowers and what do you like best about your job?
I handle Sales, Customer Service, Billing/Recon, Bloomnet calls and cover the reception desk. I have been with 1800Flowers.com 20 years in November. I like helping people select products.
Since this is our special patriotic edition of the Employee Spotlight, can you tell us how your family is related to the military?
My son Billy has been in the
U.S. Army
since 2006 and is Sergeant Telecommunications Specialist.
At 1-800-Flowers we're all about creating truly original arrangements. What makes your military family truly original?
I had not heard from my son Billy since 2010, as he keeps really busy and has been to Alaska, Iraq and Afghanistan, and is presently in Clarksville, TN. He is coming to N.Y. sometime in the beginning of June for 2 weeks and will then be going to Germany for 3 years.
Billy makes me proud that he is serving our country!
1-800-Flowers' main mission is to deliver smiles. What about being a mother of a son in the Army makes you smile?
Billy makes me proud that he is serving our country!
What is your favorite patriotic gift from 1-800-Flowers and why?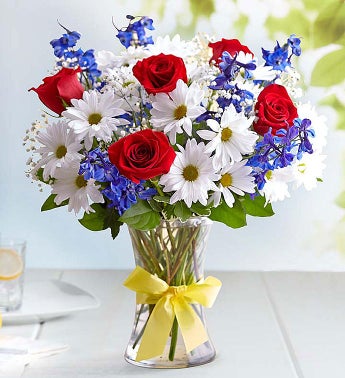 I really like the
Tie a Yellow Ribbon™
arrangement.
Tell us your favorite and most heartwarming military related story.
I was with my mother and a mutual friend and neighbor Hilde, who is 86 year old, and my son had called few weeks ago. Glad I was sitting down because it was really unexpected, and I was just so happy I cried. So did my Mom and friend Hilde.
What is your favorite flower or plant and why?
I like Hydrangea plants as I often tell customers that they are very hardy, easy to care for and perfect for planting outdoors.
What is the most valuable thing you have learned about flowers and plants during your time here?
That these are great gifts and put a smile on the faces of the people who receive them!
Anything else you want to add?
I will be marching in the Parade in Babylon with the Ladies Ancient Order of Hibernians on Memorial Day, and I always march in the N.Y.C. Parade on St. Patricks Day. I love my Irish Heritage!