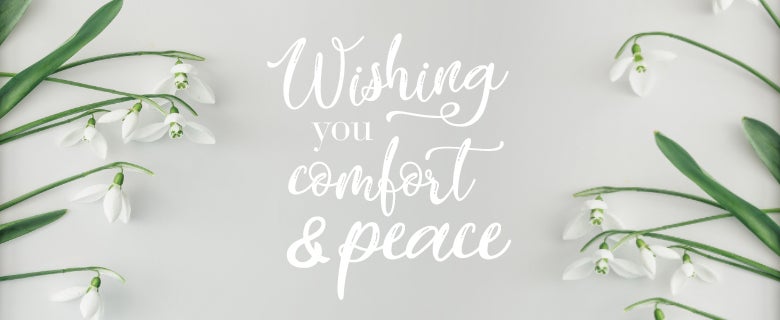 Experiencing the loss of a loved one is always difficult. In our 40+ years of delivering heartfelt condolences, we have never seen a time quite like this. And now, more than ever, is the time to connect to our family, friends and co-workers, especially if someone you care about is mourning the loss of a loved one.
While many of us may be adapting to new everyday routines, the etiquette of expressing sympathy by and large has not changed. Here are a few of our most frequently referenced suggestions:
Even if you don't know the person well, John Tesh recommends saying, "I'm sorry for your loss". It's acknowledging what has happened in an honest and direct way. And lets the person know they have permission to experience any uncomfortable emotions. Read more of his tips on how to comfort someone who is grieving here.
Regarding social media etiquette, follow the lead of the person who is grieving says Psychotherapist Hilda Burke. If they haven't said anything on Facebook, neither should you. But if they have posted about it, it is appropriate to comment. Read more about the dos and don'ts on expressing condolences on social media here.
Due to the regulations on large gatherings in many states due to COVID-19, many funeral services are being postponed or livestreamed over the internet making it an extraordinarily stressful time for the immediate family. If you aren't able to express your condolences in person at this time, a delivery of a sympathy gift basket or sympathy flowers to their home are appropriate ways to let them know you are thinking of them.
And remember to support those who have experienced the loss of a loved one, perhaps not so recently, and may be feeling a bit more aware right now, be it due to social distancing or an upcoming important date or anniversary. Rebecca Soffer, co-founder of Modern Loss provides some additional thoughts here. You can also explore free sentiment ecards for Thinking of you and Sympathy to let them know you are thinking about them.
We know these are trying times and we are here to guide you 24/7. For additional resources on sympathy & remembrance, click here. If you are in need of expressing your condolences and not sure what to send, our sympathy specialists can help by calling 1-866-538-2259.