Send Smiles with Your Veterans Advantage® Discount!
At 1-800-Flowers, we believe in supporting current and former military members for their service. It is our honor to offer discounts up to 30% on truly original flowers and gifts to Veterans Advantage® members and their families.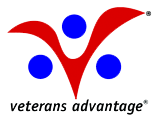 Eligibility: Veterans Advantage honors U.S. Veterans Active Duty, National Guard and Reservists from the Army. Navy, Air Force,
Marines and Coast Guard who have served during wartime or peacetime. Family members who are `next of kin` - the spouse,
father, mother, son or daughter of those who are serving or have served - are eligible to enroll and receive their own card.