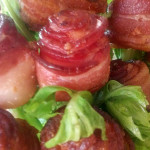 Once February 14 comes along, you may be anxiously awaiting that stunning flower arrangement your sweetie sent you. While your man may not have the same reaction to a brilliant bouquet of long stem roses like you may, you can still wow him with a bouquet of meaty bacon!
These blooming bites were so easy to make, and can be gifted in a vase or presented as a centerpiece for your romantic dinner for two.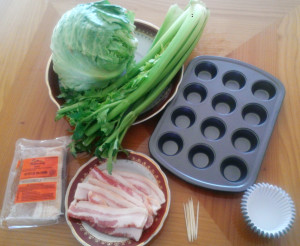 Materials Needed for the DIY Bacon Roses
24 strips of bacon – you will need 2 strips per rose
1 Head of crisp celery (with leaves)
1 Mini muffin pan
12 baking cups or liners
Toothpicks
How to Make a Blooming Bacon Bouquet
To make the bacon roses, simply lay one strip down on a plate and roll onto itself. If your bacon has a lot of fat, be sure to keep the meaty red part at the top. Take a second strip of bacon and roll the rose into it to double the size. If your bacon roses look extra meaty and you are concerned with it falling apart, stick a toothpick in through the center to be sure it holds up.
Take a cupcake wrapper and use your toothpick to poke several holes through the bottom. Place one unbaked bacon rose into the cupcake wrapper. Place this above the muffin pan. The holes at the bottom allow the grease to escape, and the mini muffin pan will catch the escaped cooking grease perfectly.
Preheat your oven to 375. Once ready, place your muffin pan in the oven and let bake for 40 minutes or until slightly crispy.
Remove from oven and let cool.
Take your head of celery and break off several stalks so you can arrange them in different heights in your vase.
Once the bacon roses have cooled, slowly sit your roses on the celery until secure. As long as your celery stalks are fresh and crisp, there will be no extra support needed!