Flowers have a magical way of saying what words sometimes cannot. The words that accompany the flowers can have a power all their own. Those words can be heart wrenching or funny, a simple "I love you" or something a bit more complex such as those the great Irish writer and poet James Joyce wrote to his wife:
"You are my only love. You have me completely in your power. I know and feel that if I am to write anything fine and noble in the future I shall do so only by listening at the doors of your heart. I would like to go through life side by side with you, telling you more and more until we grew to be one being together until the hour should come for us to die".
Unfortunately, we were not all born with the ability to so eloquently put our feelings into words. However, there is help out there! Do you remember the wonderfully romantic book of love letters that Carrie Bradshaw read to Big in the movie Sex and the City? At the time this book did not actually exist. However, there was such a demand for it after the release of the movie that St. Martin's Press quickly published a version called Love Letters of Great Men.
If you are looking for a fun way to create your own unique Valentine love note, visit the Hand Me A Line Facebook application from 1-800-FLOWERS.COM. You can always use help turning your typical Valentine's Day message into a work of art.
Sometimes you can just have fun with a line! Here are some ways to let your Valentine know you love them and give them a good laugh at the same time.
I Love You A Bushel And A Peck
This is one that I made for my husband to give to our youngest daughter. When she was a baby he always told her "I love you a bushel and a peck to pieces so much! Pals are pals and pals stick together!" He combined a few famous sayings and made up one that is all their own. They still say it to each other 22 years later!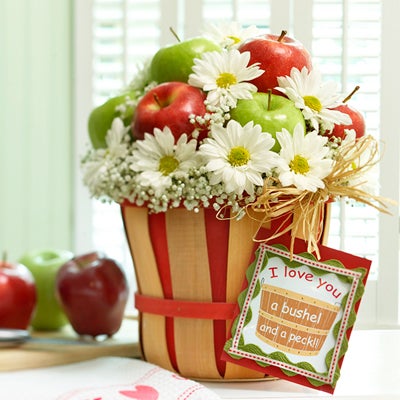 Orange You Glad We're Friends
Valentine's Day is about all kinds of love, including the love that you have for a friend. This is a fun way to let someone know how much their friendship means to you.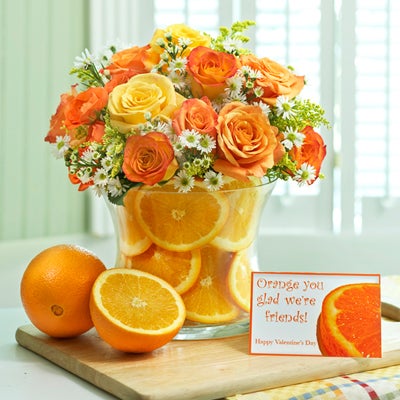 Your Two Lips Are The Only Lips For Me
This play on words along with the stunning purple and red tulips makes this gift both beautiful and funny – just like your Valentine!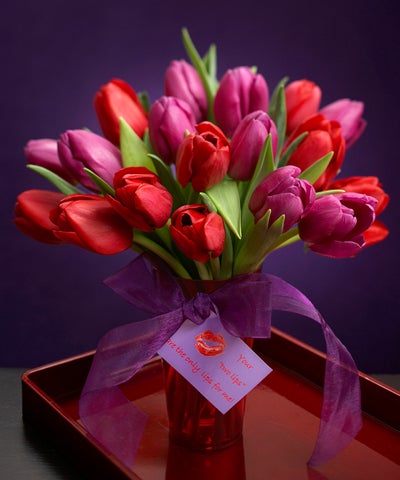 You Really Know How To Sake It To Me
This year the Chinese New Year – the year of the tiger – falls on February 14th. Celebrate both with a few stems of fresh orchids displayed in a sake vase and add a votive candle to the sake cup. Anyone old enough to remember the ground breaking TV show Laugh In would get a kick out of this play on words! "Sock it to me, sock it to me, sock it to me…"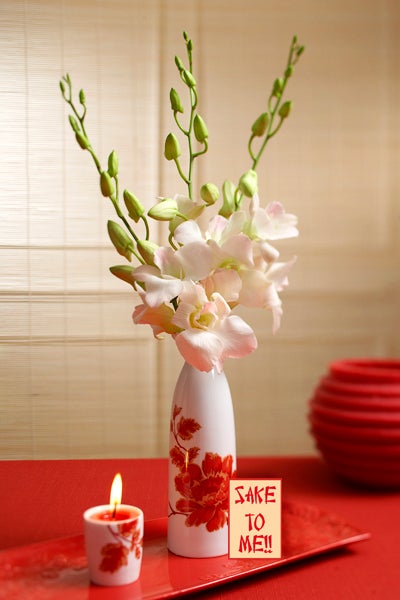 I Love You "Sew" Much
A sweet rose bouquet nestled inside of a vintage sewing basket would be a beautiful way to show any Mom she's loved on Valentine's Day, and everyday.