Setting up a Mimosa and/or Bloody Mary bar is a no-brainer, especially when serving breakfast food. That said, you have to try this waffle jello shot recipe that I found on the Jelly Shot Test Kitchen blog!
They have the classic recipe and a nice blueberry version on their site. I made the classic, and it was quite good.
The Wilton 12 Cavity Round Ice Cream Sandwich pan is the magic behind the waffle shape and look of the shots. I ordered mine from Bed Bath & Beyond.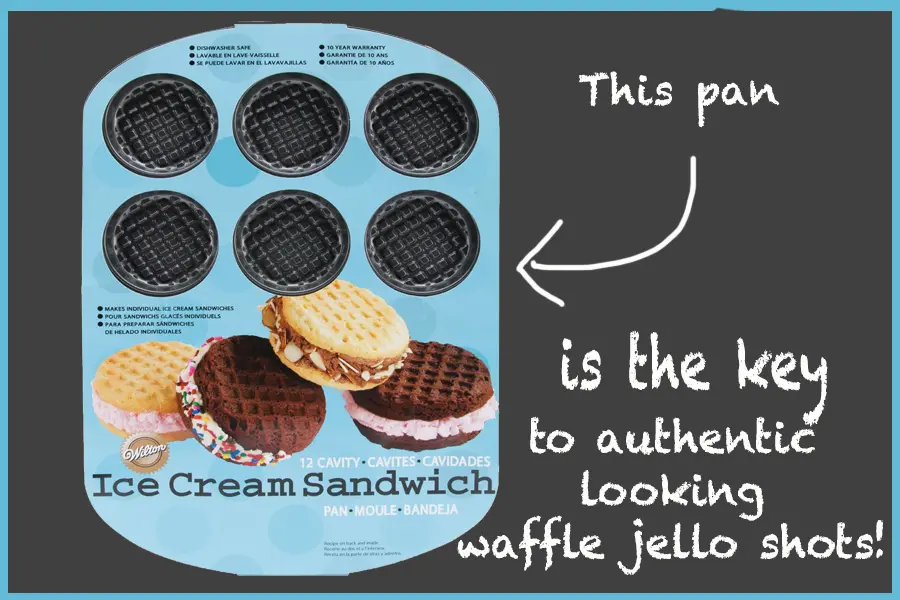 The Recipe (with my shortcuts/substitutions)
Yield: 12 jelly shots
1 cup fresh squeezed orange juice, strained to remove solids (I used store bought, no pulp)
2 tsp lemon juice
¼ cup Grade B maple juice (I used Harry & David Maple Syrup)
2 envelopes plain Know gelatin
1 cup cake flavored vodka or vanilla vodka with 2 tsp amaretto (I used plain vodka, because that's what I had in the house!)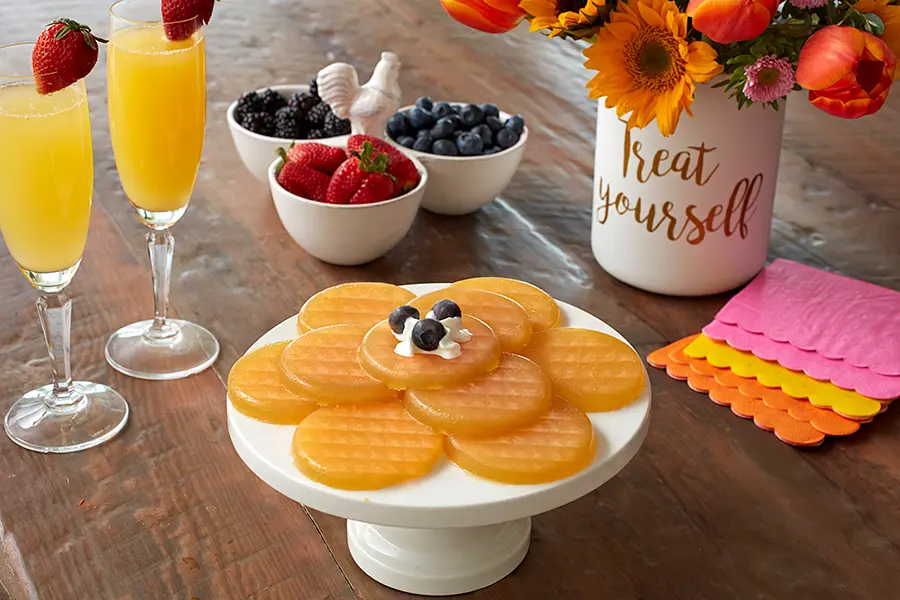 Instructions
Prepare the molds with a quick spray of cooking oil, then wipe them clean with a paper towel. This leaves a slight film to aid in removal without affecting the appearance or taste of your jelly shots.
Pour juices, preserves, and syrup into a medium saucepan and sprinkle with gelatin. Allow gelatin to soak for a minute or two. Heat over low heat, stirring constantly, until gelatin is dissolved, about 5 minutes. Remove from heat, and stir in the vodka.
Fill molds with the mixture, and refrigerate for until firm, several hours or overnight.
Remove from molds.
Serve with fresh fruit and whipped cream; let each guest add their topping(s) of choice. The cream and berries add that perfect touch of sweetness, making your shot more like a Belgian Waffle shot!
Check Out the Rest of Julie's Galentine's Day Posts:
*How to Throw a Galentine's Day Party
* Food for a Galentine's Party
*Volunteering for Galentine's Day
*Galentine's Day Crafts & Decor