I love the fall – as a stand-alone season! I hate the fact that it means the summer is over and that winter comes next, but fall is a nature's bounty of beauty. A farmer's market, green market, or fruit and veggie stand offers as many fresh decorating elements as a flower shop! The best way to celebrate all that nature has to offer is to incorporate all aspects into your home decorating, party décor and gift giving.
I have many ideas to share and will start with using fruits and vegetables as containers for flower arrangements. One of my favorites is the butternut squash. The shape and texture of the squash makes it hard to tell at first that it's real and not a ceramic container.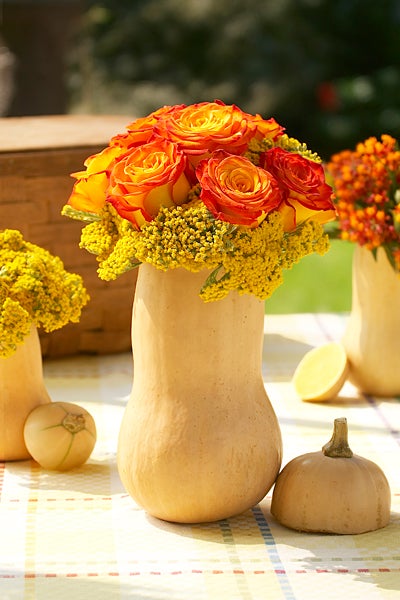 How to:
Choose a squash that stands up nice and straight in a size that works for you.
Cut off the top of the squash.
Scrape out as much of the squash as you can, being careful not to get too close to the outer skin. This is a little hard to do, so just be patient.
You can either fill the hole with water and arrange the flowers or use a small piece of floral foam cut to fit the opening. Foam works best with flowers that have firm stems, such as roses, carnations, and poms.
I will feature a new idea every couple of days, so check back and be inspired!