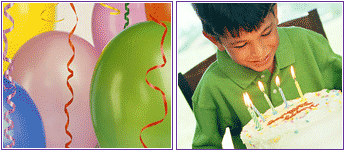 A thoughtful gift can brighten a birthday. And, since birthdays only come once a year, so you'll want to make each one as special as the person being honored. Any well-intentioned gifter can feel a sense of anxiety when faced with the pressure of choosing that perfect birthday gift, especially when he or she is not even sure where to begin.
The gifting experts at 1-800-FLOWERS.COM offer the following suggestions for all those hard-to-shop for people on your list:
Books or accessories supporting the recipient's interests, hobbies or collections would surely be appreciated.
Sentimental gifts, such as framed photos or scrapbooks, are sure to pull at the heartstrings of the birthday person.
A sampling of the birthday person's favorite gourmet treats, assembled in a gift bag or basket would be a tasty way to celebrate. Customized gift baskets, accenting a recipient's interests or hobbies, or perhaps their favorite sports team, are a fun way to say Happy Birthday.
A very unique and always enjoyed gift is a compilation of newspapers, music, movies and other popular items from the year the birthday boy or girl was born, or perhaps a collection of favorite childhood toys from their era.
Birthstones and birth flowers are an excellent place to start when searching for the perfect gift. Everyone (even a man) loves to receive flowers and an arrangement including the recipient's birth flower is extra special. And in case a birthday is forgotten, any busy gifter can appreciate that flowers can often be delivered same-day.
When all else fails, gift certificates to the birthday person's favorite restaurants, shops or salons are always useful and appreciated.